South Africa is now officially in its first recession since 2009 after gross domestic product (GDP) shrank by 0.7% in the first quarter of the year, following a 0.3% contraction in the last quarter of 2016.
But why should the decline of GDP for two consecutive quarters be a reason to worry?
In economics, it a rule of thumb that if an economy suffers negative GDP growth for two consecutive quarters, it's a recession. It refers to shrinking economic output, sometimes also known as negative economic growth or economic decline which are never good signs.
In South Africa's case, it's particularly serious because the country needs strong economic growth to reduce its unemployment which is a little less than 28%.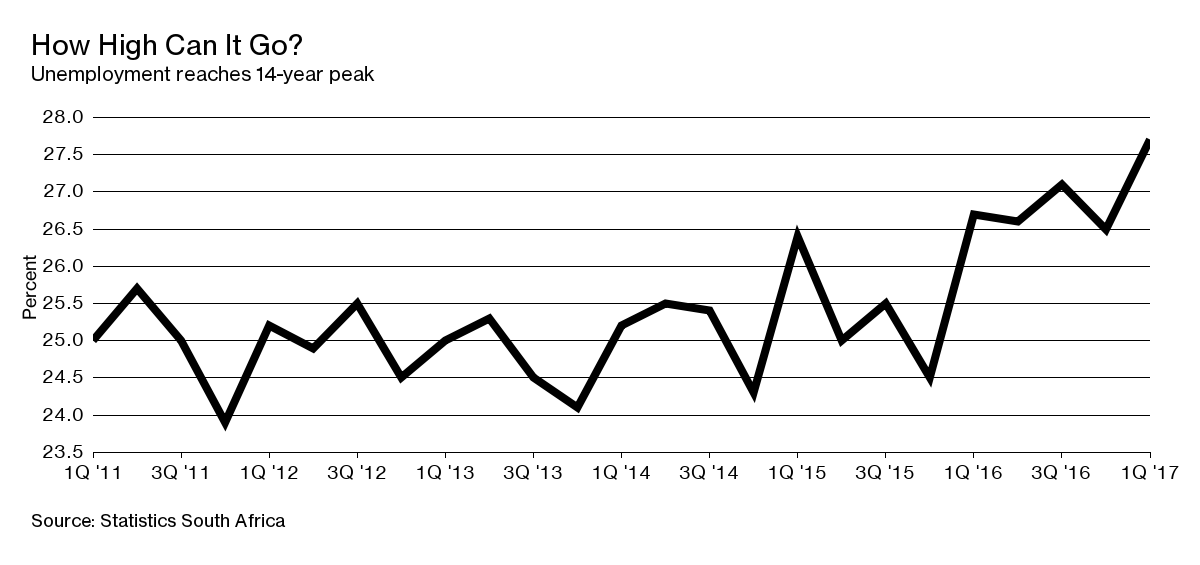 What caused it?
The downturn was caused by a sharp contraction in trade, which fell by 5.9% and accounted for minus 0.8 percent in the growth rate. Production in the trade sector dropped across all divisions, particularly in catering, accommodation and wholesale trade, Stats SA reported. Manufacturing output also shrank by 3.7%, while government and household spending both fell too.
There was some positive news in the farming and mining sectors growing at 12.8 percent and 22.2 percent respectively in the period. Mining's growth was mainly as a result of the rise in gold and platinum production.
While rain is helping the economy recover from a 2015 drought that was the worst since records started more than a century earlier, political uncertainty has hampered growth, reported Bloomberg.
Government agency Stats SA has tweeted the key points:
Stats SA continued:
Possibly the most important aspect of the first quarter's results is the tertiary sector. The sector – comprising finance, transport, trade, government and personal services – recorded its first quarter of decline since the second quarter of 2009, when South Africa was in a recession as well.
According to Bloomberg, economists and business executives agree that this time, it is caused by Jacob Zuma – Mr. president.
President Jacob Zuma changed his Cabinet and fired Pravin Gordhan as finance minister in March, a move that saw the nation lose its investment-grade status with two rating companies for the first time in 17 years.
"There is no other factor to explain the recession," said Iraj Abedian, chief executive officer at Pan-African Investments and Research Services in Johannesburg. "The only factor is the political shenanigans, policy uncertainty and the lack of leadership, which has hollowed out confidence both in the consumer and the investment community."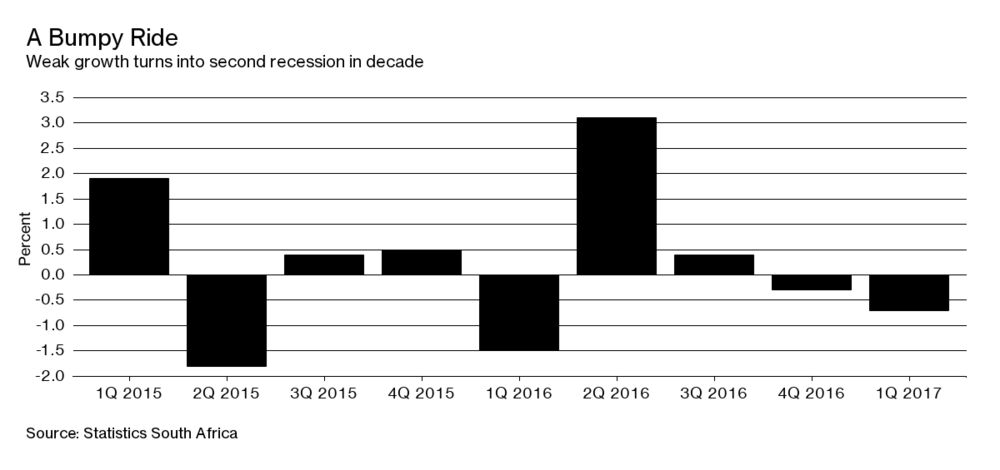 Gordhan, who had been driving efforts to trim the budget deficit, improve state firms' performance and ward off junk credit ratings, was canned in a March 31 cabinet shuffle, prompting two rating downgraded to non-investment levels within a week and nationwide demonstrations.
"There's been a massive loss of confidence," Graham O'Connor, the CEO of Spar Group Ltd., a food, and liquor retailer with more than 2,000 outlets in southern Africa, said by phone. "All of us are disappointed by the firing of Gordhan, and the cabinet reshuffle just breeds uncertainty and that's not what we want."
How Could South Africa Get Out of It?
Improving credit ratings can get the economy on track by encouraging others to invest. Investment is required to get South Africa out of its depressed economic conditions. The investment will boost demand in the economy, with positive spill-over effects on a number of sectors.
Moody's upcoming decision regarding the credit rating would be a critical moment. This after two big rating agencies Fitch Ratings and Standard & Poors downgraded some of South Africa's instruments into the sub-investment grade. A downgrade from Moodys' will trigger massive capital flights which will exert further pressure on the economy.